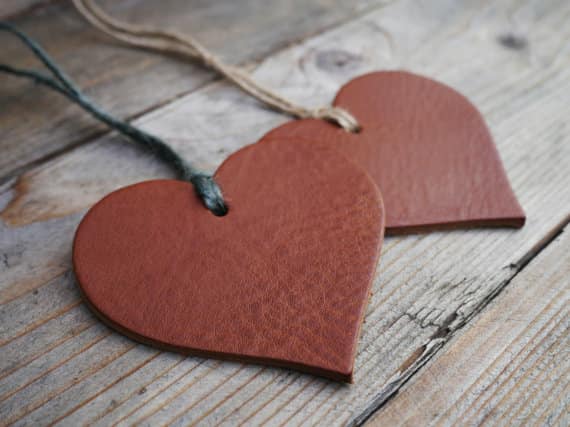 Love at First Sight
Valentine's Day will be here before we know it and although many people are happy with a heartfelt card and the standard bouquet of flowers, bottle of wine and a romantic meal out, I'm here to cater for those whose heart desires…a little more.
Whether you're the one buying, or the one doing the hinting, hopefully this Valentine's day guide can make things a little easier for you.
On the day, make sure you speak from the heart, you could even use one of my hanging leather heart decorations to do this for you. Left as they are, they make great rustic decorations for the home, or I can personalise one for you; perhaps with a name, a declaration of love or even a proposal?! To buy a heart, click here.
In every man-drawer, pairs of cufflinks lie waiting for the next fancy occasion when they may or may not be chosen to go out for the night. So I say, buy THE pair of cufflinks that will always shout 'pick me', unlike the others! Not only are they handmade, but they can be personalised with your loved one's initials too. Make your date look and feel extra special with the perfect pair. To shop my cufflinks, click here. 
For those love letters (proper ones, not a Whatsapp or text message), make sure your beloved is never without suitable writing material by providing a fancy pants pen and my leather pen case to keep it safe. To take a look at my pen case, click here. 
Happy Valentine's Day!